Weatherization Services
Save on Energy Bills with Weatherization Services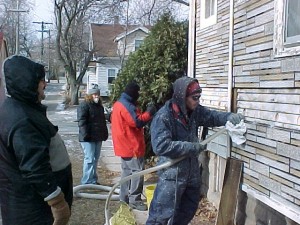 La Casa's Weatherization Program assists qualified, low income residential households in Jefferson, Waukesha and Milwaukee counties by identifying energy waste and providing cost effective, energy saving measures and education. Weatherization is provided at no cost to low-income owners and renters. Eligibility depends on the number of people in the home. You can check the current income guidelines here: Home Energy + - Wisconsin's Weatherization Assistance Program. Persons interested in the program must first apply for Wisconsin Home Energy Assistance Program. The program, a partnership with the Wisconsin Division of Energy, Housing and Community Resources includes a variety of energy-saving services including:
Insulation of attics, side walls and crawlspaces
Air sealing of drafts and warm air escaping through the attic.
Repair or replacement of heating systems and duct work
Lighting replacement with energy efficient Light Emitting Diodes (LED's)
Replacement of refrigerators or freezers
Testing and/or replacement of water heaters
Health and safety inspections
Maintenance and conservation education.
Home Energy Plus helps qualified Wisconsin residents reduce energy use and costs through three offerings—the Wisconsin Home Energy Assistance Program (WHEAP), the Weatherization Assistance Program (WAP), and the Home Energy Plus Furnace Program. These offerings are available statewide and are funded by the Wisconsin Department of Administration (DOA), Division of Energy, Housing and Community Resources (DEHCR). La Casa De Esperanza supports Home Energy Plus by providing weatherization services in Milwaukee, Jefferson, and Waukesha County.
Households that rent should continue to apply for Wisconsin Home Energy Assistance and have their landlord contact La Casa for more information on the program.
For more information or to apply, call:
Milwaukee County: (414) 270-4653
Waukesha County: (800) 506-5596
Jefferson County: (800) 506-5596
This program is not possible without your support, click here to learn more about supporting this program.