Anselmo Villarreal | President & CEO
Dr. Anselmo Villarreal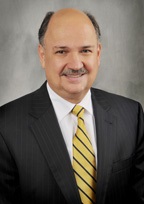 Dr. Anselmo Villarreal is the President and CEO of La Casa de Esperanza, Inc. (La Casa) a community-based organization dedicated to serving Waukesha's low-income and Latino population since 1966. With 28 years of experience in non-profit management, Anselmo's primary responsibility as President and CEO is to provide strategic vision, planning, and direction of the organization under the guidance of the Board of Directors and in line with the organizational mission.
Under Dr. Villarreal's leadership, La Casa has expanded its programs and services to respond to the changing needs of the community. His accomplishments during his tenure as President and CEO of La Casa include strategic planning to ensure efficient agency-wide service delivery; vastly expanding community collaboration; leading two successful capital campaigns for a new community center, building renovations, and program initiatives totaling over $12 million; and starting social enterprise projects through the national Denali initiative and Café Esperanza Food Service Training Program. In 2003, Dr. Villarreal played a key role in establishing a La Casa de Esperanza Foundation Board that is dedicated exclusively to attracting financial support to ensure the future viability of La Casa's programs and services.
Dr. Villarreal completed two terms of 3 years each, with the Mexican government as the Wisconsin representative of the Institute of Mexicans Abroad, specifically as a member of the Economic Commission of the Institute, which addresses issues related to commerce, community reinvestment, consumer protection regulations, consumer credit, financial privacy and security, electronic banking and general financial services. He is an avid advocate for fair lending practices, fighting against predatory lending, and encouraging the use of banking services to the un-banking community.
Dr. Villarreal is a former member of the Consumer Advisory Council of the Federal Reserve Board, and in 2004 was appointed by Wisconsin's Governor Jim Doyle to be part of the Southeastern Wisconsin Resource Planning Commission.
In addition to those already mentioned, Dr. Villarreal has served on the Boards of the National Council of La Raza, The Alliance for Children and Families, and Southwest Keys. He has served on the boards of the Federal Home Loan Bank of Chicago Advisory Council Member, Mexican American Solidarity Foundation, Workforce Development Center, Wisconsin American Lung Association, Wisconsin Centro Legal, the Basic Needs Committee of the United Way, Wisconsin Hispanic Scholarship Foundation, Catholic Charities (Immigration Committee), Miller Brewing Baseball Park (Advisory Council Member) and Hispanic Health Community Resource Center. He has been involved with the Hispanic Chamber of Commerce, National Puerto Rican Coalition and the National Housing Action Coalition. He currently serves on the Board of Waukesha State Bank.
Dr. Villarreal successfully completed a Fellowship with the Denali Initiative and of the Executive Education Program of Stanford University. He has received recognition in 2003 when he received the Community Advocate award which was presented by the NAACP. In 2004, he was presented with the Excellence in Leadership award presented by the Waukesha County Technical College. He received keys to the City of Waukesha from the last two Mayors.
Under his leadership, La Casa received the Nonprofit Agency of the year award in 2002 and received the Outcomes in excellence awards presented by the United Way in 2004. In addition, La Casa was awarded a first Earmark Grant from the Department of Labor in 2002 to establish the only Weatherization Training Program in the Midwest. La Casa was awarded a second Earmark Grant from the Department of Labor in 2004 to develop an innovative Food Service Training Program. In 2006 and 2009, La Casa de Esperanza received the National Council of La Raza / Ford Motor Company Central Affiliate of the Year Award for its exemplary work in serving the community. La Casa's Children, Family and Youth Program also received the National Council of La Raza / Annie E. Casey Foundation "Family Strengthening Award", which is given to only four organizations nationwide.
Dr. Villarreal began his career in the federal government of México, the country of his birth and college education. After graduating from the Instituto Tecnologico y de Estudios Superiores de Monterrey in Mexico, he came to the United States to advance his career by earning a Master's Degree in Economics from the University of Wisconsin Milwaukee in 1986. In 2014,Dr. Villarreal earned his Ph.D. in Leadership for the Advancement of Learning and Service at Cardinal Stritch University. Today, Dr. Villarreal's caring begins at home in Greenfield where he resides with his wife of 28 years, Elvira, his 24-year-old son, Roberto and his 18-year old son, Daniel.